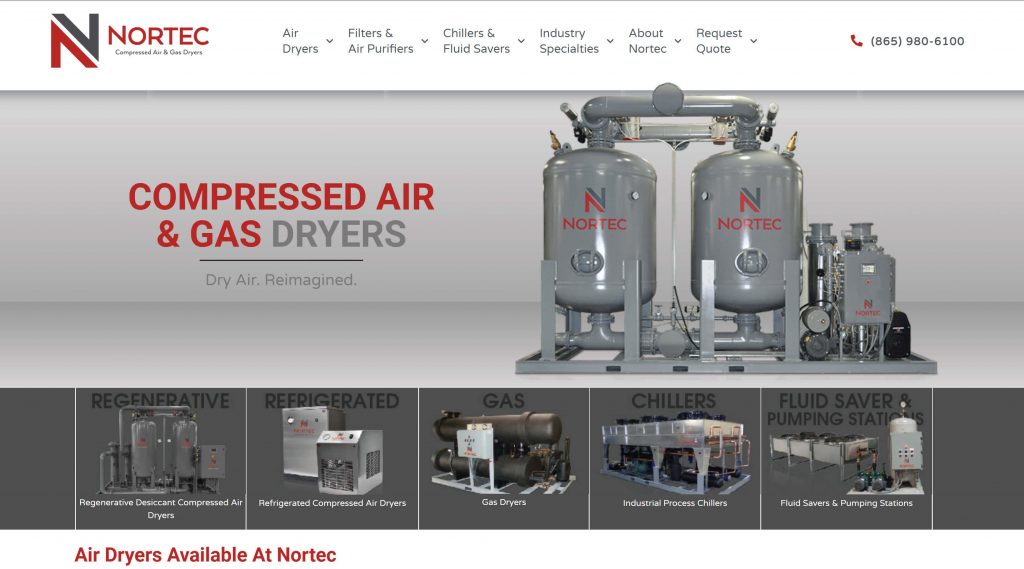 Next Air & Gas' new website was created to provide better customer support, easier access to product details and specifications, and to introduce Next Air & Gas to new groups of industrial professionals.
Next Air & Gas, a manufacturer of compressed air and gas dryers, industrial chillers, filters and purifiers, water savers, pumping stations, and other specialty air drying systems. The new site replaces one that the company has had for a number of years.
"Our new website is designed so viewers have access to all information no matter what their device—computer, phone, or tablet," said Masoud "Mike" Zarif, Ph.D, CEO and President. "This makes it much easier for people to understand our equipment, special features they can select when applicable for their processes, and how Next Air & Gas provides support both before and after a sale."
Dry compressed air is critical for modern manufacturing processes. Clean, dry process air is the "fourth utility" after water, electricity, and gas because of its widespread use in industry.
Atmospheric air contains contaminants—dust particles, water vapor, oil, and other impurities. As air is compressed, these contaminants become more concentrated, causing a variety of problems—equipment wear, increased maintenance, lower production efficiency, pipe and line corrosion, and other expensive headaches.
In some industries, even the smallest contaminants in a compressed air supply can cause production problems or errors that cost thousands to correct.
"We have more than three decades of experience building systems needed to dry air and cool processing equipment so your production is maximized and your costs dramatically reduced," said Zarif. We've built Refrigerant Systems as large as 20,000 CFM. Desiccant Systems as large as 16,000 CFM. Gas systems as large as 20,000 CFM.
"Our new website helps people understand this with a new level of detail."
To learn more, visit the new site at www.nextairgas.com.