Maximize Heat Transfer With Minimal Pressure Drop
Air leaving a compressor is hot, and can contain significant amounts of moisture. Aftercoolers are an efficient way of reducing temperature, forcing moisture to condense, and removing it from the compressed air supply. Typically, aftercoolers reduce air temperature from several hundred degrees to within a few degrees of ambient air temperature. As much as 75% of the water vapor in the air can be removed through this process.
Aftercoolers serve several functions, in fact. In addition to removing moisture, the reduction in temperature can protect downstream equipment from excessive heat. Lower temperatures can also reduce the risk of fire. Aftercoolers can be used to increase system capacity and improve the efficiency or lower the costs of other drying processes.
Next Air & Gas offers both air-cooled and water-cooled aftercoolers. Our systems provide maximum cooling efficiency with minimum pressure drop that can affect industrial processes.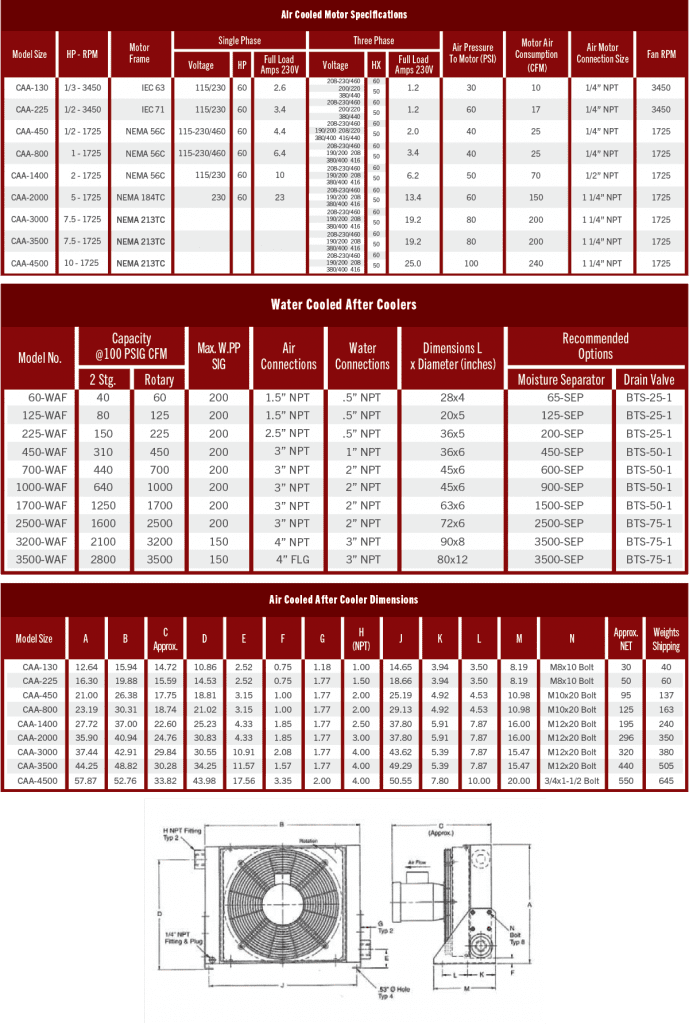 | Model No. | Capacity @100 PSIG: 2 Stg. | Capacity @100 PSIG: Rotary | Max. W.PPSIG | Air Connections | Water Connections | Dimensions L x Diameter (inches) | Rec Options: Moisture Separator | Rec Options: Drain valve |
| --- | --- | --- | --- | --- | --- | --- | --- | --- |
| 60-WAF | 40 | 60 | 200 | 1 ½" NPT | ½" NPT | 28 x 4 | 65-SEP | BTS-25-1 |
| 125 WAF | 80 | 125 | 200 | 1 ½" NPT | ½" NPT | 20 x 5 | 125-SEP | BTS-25-1 |
| 225-WAF | 150 | 225 | 200 | 1 ½" NPT | ½" NPT | 36 x 5 | 200-SEP | BTS-25-1 |
| 450-WAF | 310 | 450 | 200 | 2 ½" NPT | 1" NPT | 36 x 6 | 450-SEP | BTS-50-1 |
| 700-WAF | 440 | 700 | 200 | 3" NPT | 2" NPT | 45 x 6 | 600-SEP | BTS-50-1 |
| 1000-WAF | 640 | 1000 | 200 | 3" NPT | 2" NPT | 45 x 6 | 900-SEP | BTS-50-1 |
| 1700-WAF | 1250 | 1700 | 200 | 3" NPT | 2" NPT | 63 x 6 | 1500-Sep | BTS-50-1 |
| 2500-WAF | 1600 | 2500 | 200 | 3" NPT | 2" NPT | 72 x 6 | 2500-Sep | BTS-75-1 |
| 3200-WAF | 2100 | 3200 | 150 | 4" NPT | 3" NPT | 90 x 8 | 3500-Sep | BTS-75-1 |
| 3500-WAF | 2800 | 3500 | 150 | 4" FLG | 3" NPT | 80 x 12 | 3500-Sep | BTS-75-1 |