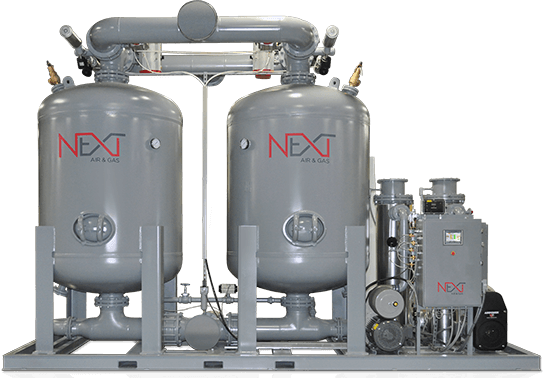 Blower Purge Heated Regenerative Desiccant Dryers
Blower Purge Heated Regenerative
Desiccant Dryer PDF
Next Air & Gas Blower Purge Regenerative Compressed Air Dryers process large volumes of compressed air economically, since no compressed air is required to regenerate the desiccant.
In Blower Purge models, an automatic system using a centrifugal blower and a high efficiency heater pull in ambient air and pass it through the heater. This eliminates the need to use valuable compressed dry air for desiccant regeneration. Instead, more compressed air goes to plant operations.
The hot air stream from the blower flows opposite to the drying flow direction. Hot air above 400 F regenerates the moisture laden desiccant bed and strips it completely of all moisture. Our advanced control system monitors the dew point and adjusts the heating/regeneration accordingly, thereby providing significant energy savings. The heater circuit is completely insulated, ensuring maximum heating efficiency. A -40º F/C pressure dew point protects critical equipment and processes.
Our Blower Purge models feature:
Fully Insulated Towers and Heater for greatest safety and operating efficiency.
High-efficiency direct drive blower with long lasting life.
Failure to Switch/Pressurize alarm via HMI

Should you need guidance determining which type of dryer works best for your operation, our on-staff experts are happy to do an analysis and make recommendations. You can request assistance here.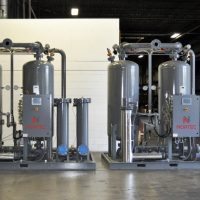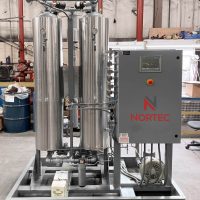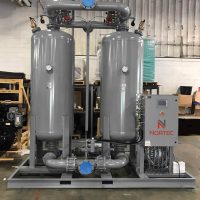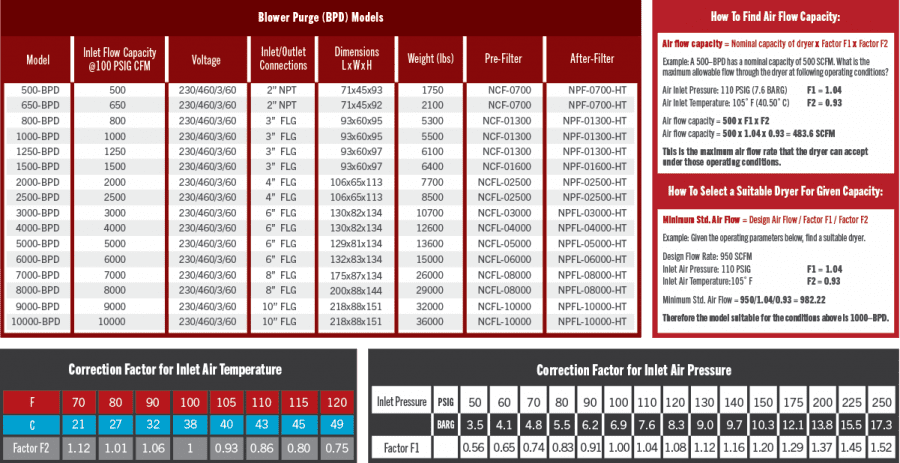 | Model No. | Inlet Flow (CFM) | Inlet/Outlet Connections | Dimensions L x W x H | Weight (lbs) |
| --- | --- | --- | --- | --- |
| 500-BPD | 500 | 2" NPT | 90x42x90 | 2890 |
| 650-BPD | 650 | 2" NPT | 90x42x91 | 3500 |
| 800-BPD | 800 | 3" FLG | 95x42x105 | 4500 |
| 1000-BPD | 1000 | 3" FLG | 95x42x106 | 5600 |
| 1250-BPD | 1250 | 3" FLG | 110x70x109 | 6400 |
| 1500-BPD | 1500 | 3" FLG | 110x70x110 | 8200 |
| 2000-BPD | 2000 | 3" FLG | 140x75x110 | 9800 |
| 2500-BPD | 2500 | 4" FLG | 140x75x111 | 12500 |
| 3000-BPD | 3000 | 4" FLG | 140x89x120 | 15000 |
| 4000-BPD | 4000 | 6" FLG | 160x94x122 | 21000 |
| 5000-BPD | 5000 | 6" FLG | 180x94x140 | 27000 |
| 6000-BPD | 6000 | 6" FLG | CF | CF |
| 7500-BPD | 7500 | 8" FLG | CF | CF |
| 9000-BPD | 9000 | 8" FLG | CF | CF |
Nortec Performance Advantages
The performance of any desiccant dryer depends on the quality of its key components. Nortec uses the best available valves, controllers and
desiccant. With accurately designed and sized components, the dryers are manufactured to provide you with years of trouble-free operation.
Quality Desiccant Media
Nortec uses a mixture of adsorption media in its heatled range of desiccant dryers to achieve consistent dewpoint. Activated Alumina, Molecular Sieve and Silica Gel are used in varying ratios depending on the application. The long lasting, high crush strength media has a very high surface/volume ratio.
Programmable Logic Controller (PLC) with Color HMI Provide The Information You Need
All Nortec heated desiccant regenerative dryers are equipped with the state of the art PLC controllers that regulate and monitor dryer function. A simple user interface allows the operator to quickly enter settings and monitor operations, including dewpoint selection, energy cycle, diagnostics, and more. The unit can also be connected to a remote computer.
Digital Dewpoint Transmitters Optimize Operations
The digital dewpoint transmitters are compact, reliable and continuously monitor the dryer performance. With available options, monitors can be used as indicators, alarm units or as controllers. A simple interface permits the operator to choose between multiple units, output the data to a PC, set alarm levels and do field calibration of the sensor.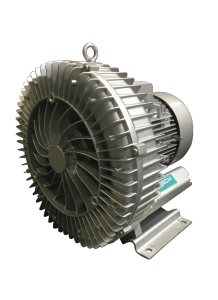 High-Efficiency Blower
High-Efficiency Blower The centrifugal blower is sized optimally to provide a continuous stream of air to the heater for regeneration. The blower is equipped with an intake filter, a muffler for quieter operation, and check and relief valves for high-pressure safety.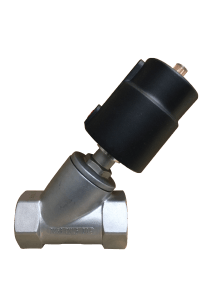 Angle Body Piston Valve
These high-performance, 2-way direct acting valves are designed for reliability and durability. It uses a profiled disc in conjunction with a high-resolution compact positioner and linear feedback potentiometer to provide precise proportional flow. The stainless steel internals and a tough fiber composite actuator body, along with the use of oversized bearing and Viton® seals, make it possible to consistently provide smooth piston movement for years of trouble-free service.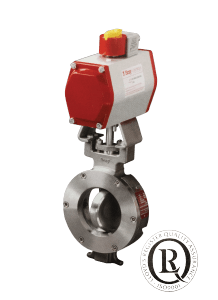 Butterfly Valves for Precise Control
These versatile, high-performance butterfly valves are used by Nortec to provide you with precision control and complete bubble-tight shut off. The digitally controlled actuators provide easy PLC interface and feature fast response time. The tongue-and-groove seat design feature ensures complete isolation of flowing media from the body and stem. Rugged and reliable, these valves are designed to provide years of trouble-free service.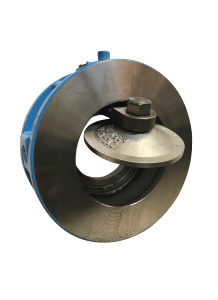 State-of-the-Art Check Valve
High-temperature, wafer-combination swing check valves are flow activated. The elliptical shape of the inlet port accelerates the inlet media through the valve. The disc's angle and shape allows the air to travel faster around the disc, thus creating lift like an aircraft wing, and opens the valve in full position even at low flow rate.