High Pressure Refrigerated Compressed Air Dryers
High Heat Transfer Efficiency. Exceptional Quality Components.
Next Air & Gas is the industry leader in the design and manufacture of High Pressure Refrigerated Air Dryers for a variety of applications, such as water jet cutting, bottling, and others. With the use of the best available components, these dryers are designed specifically to meet the stringent standards of high-pressure applications.
To achieve very high heat transfer efficiency, the stainless-steel heat exchanger that employs the brazed plate construction is used. This also ensures consistent dewpoint and very-low pressure drop. With their integrated controls and completely enclosed frame, these dryers will provide years of trouble-free service with very little maintenance.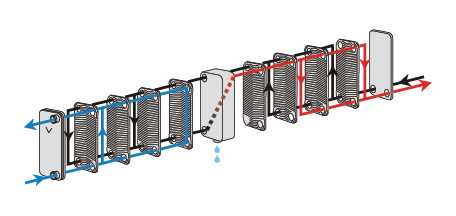 Warm gas enters the recuperation section and exchanges heat with the cooler leaving gas.
The gas then proceeds to the dryer section and is cooled using either mechanical refrigeration or liquid to a designed dew point.
The gas then proceeds through a specially designed moisture separator, where condensate drops out into the bottom of the separator.
The gas then proceeds back through the recuperator section where it is heated up by the incoming warm gas.